WELCOME TO Dutch Harbor Pallets
ABOUT Dutch Harbor Pallets

We manufacture pallets in Dutch Harbor Alaska. Pallets are built using only new heat treated wood from the forests of the North West.
---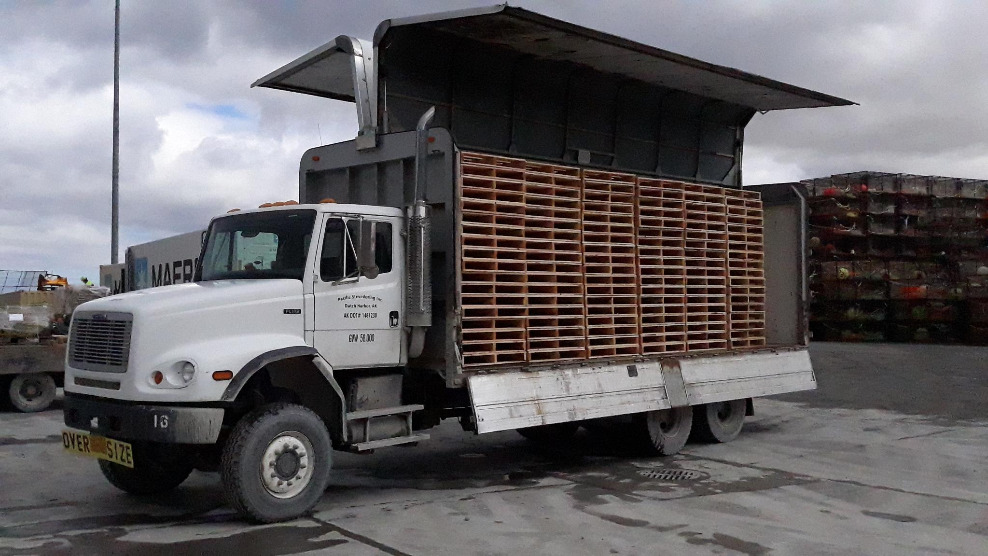 Service and Pallet Delivery

Pallets are manufactured then stored at our warehouse facility in Dutch Harbor Alaska. They are then delivered on demand to any dock in Dutch Harbor. The pallet factory can produce custom pallet configurations on request.

Timber Products Inspection Certificate

Heat Treatment Document: Shadybrook Timber Products Inspection Membership Certificate
Heat Treatment Document: Universal Forest Products Membership Certificate


Below are three video views of our pallet machine in Dutch Harbor Alaska. The videos show how this machine, in about 50 seconds, can build a pallet, move the built pallet to a stacking unit then move the stacks of pallets to a roll off conveyor for staging and storage. The current pallet configuration is the Grocery Manufacturers Association (GMA) pallet built using only heat treated wood. The GMA pallet has a foot print of 48 inches by 40 inches with a four way forklift entry. It has seven (7) top deck boards and five (5) bottom deck boards. As seen in the videos, these are new GMA pallets, i.e, not previously used. Perfect for transportation of all goods and in compliance with FDA regulations.

Dutch Harbor Pallet Factory
Part of a Pacific Stevedoring Service
907-359-2163